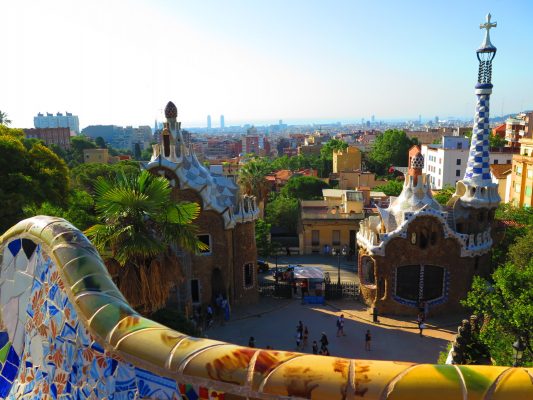 When the plane landed in Barcelona and the flight attendant began to speak Spanish, my brain switched gears—I was about to spend the weekend communicating in a foreign language. Thanks to the four semesters of Spanish classes I took for Fordham's core curriculum, I had little difficulty doing so. It didn't take long until I was immersed in culture of Barcelona, the sights and sounds felt somewhat unfamiliar, but it wasn't anything I was afraid of. I love getting lost in a new city.
We checked into our hotel in the El Poble-Sec district, not far from the Gothic Quarter, the center of the old city. My friend Tara and I had asked the receptionist how to get to the city center, but we were both too tired to remember her directions. After wandering aimlessly through the city, we eventually reached Las Ramblas, a pedestrian street filled with cafes and restaurants. At first, our only priority was to find a place for gelato in the 90-degree heat. Gelato in hand, we walked through the busy streets, passing by stalls filled with colorful artistic memorabilia. Then it hit me—it was about to be a weekend filled with all things Gaudí. I'd always admired Gaudí, but I'd never had the chance to appreciate his work up close.
Antonio Gaudí was an architect from Catalonia, Spain, known for his very distinct Art Nouveau, Catalan Modernist style and is admired by architects and artists all over the world. I remembered visiting Barcelona at age 11 with my family and being captivated by the colors and shapes of the Casa Batlló, one of Antonio Gaudí's architectural masterpieces, although we didn't go inside at the time. Excited to finally see the building that I remember being fascinated by as a child, we headed towards it.
We bought tickets and toured the massive space, following our audio guides; I switched back and forth between English and Spanish for fun. Each room had different focal pieces and incorporated colors and styles that surprised its visitors at every turn. I could see how Gaudí was influenced by architecture, nature, design and religion. He, unlike many other architects, incorporates stained glass, textiles, ceramics and special iron into his work. The exterior of the house contains rounded features, exciting colors and mystical textures—the roof is similar to the back of a dragon. The inside had broken mosaics, stained glass windows and very few straight lines. I could have spent hours inspecting the shapes and concepts Gaudí put to life.
My head was spinning with images of the vibrant colors and striking shapes of the Casa Batlló for the rest of the day. I couldn't wait to see more of his work, and immediately started planning how I could fit as much Gaudí as possible into two short days.
Ambitiously, we booked tickets for Park Güell at 8:30 the next morning. As much as we grumbled getting out of bed so early, it was worth it—once again, Gaudí outdid himself. The blue and yellow tiles on his signature benches were magnificent. Two modern-day picturesque gingerbread-looking houses stood below the level raised above the city, their textures reminding me of caramel popcorn. The flower gardens were colorful and inviting. We had a great view of the city from the top of the staircase. As I spun around and admired the beauty of the city, I caught a glimpse of a large church on a hill above us.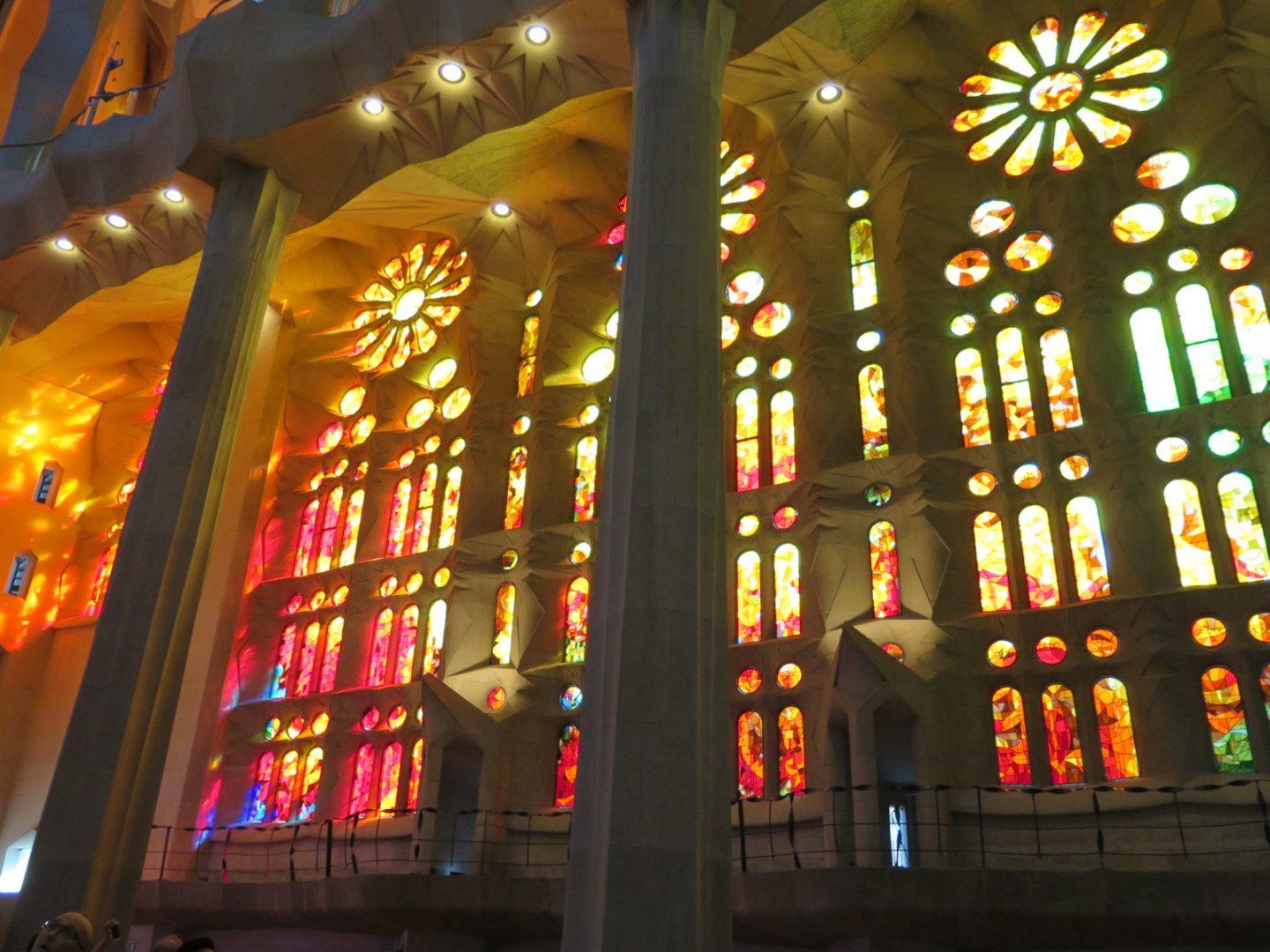 As a lover of churches, I immediately knew I had to visit it. Our friend Matt met up with Tara and I, and we all agreed to find the top. I pulled out my half-ripped bus tour map that the hotel receptionist had given us the previous day, and located the image of a mountain labeled, Tibidabo Mountain. It looked fairly easy on a map, but it ended up taking us about an hour; we got lost nearly a half dozen times. At one point we were standing on an almost-empty street on a hill. It was still filled with magnificent purple flowers and looked like it could be part of a movie scene. To many, it was just a normal street in Spain, but I couldn't help but to admire the beauty of each and every one.
The only people in sight were two police officers getting into their car without uniforms. I asked them if they knew how to get to the Avenida Tibidabo bus stop and they gave me a puzzled look. I stuttered out, "¿Sabe usted cómo llegar a la parada de autobús de la Avenida Tibidabo?" Did I say I wasn't having difficulty with my Spanish? Well—my American accent wasn't helpful. They ended up giving us directions and names of streets, but we were practically speaking Spanglish to each other. We finally found our way to the bus stop and took a funicular up to Tibidabo Mountain. It was a 360-degree view overlooking Barcelona that stood at 1600 feet high. This view couldn't compare with the one we had at Park Güell. We did a quick look in the church and took the funicular down.
We decided that we needed to stop for churros con chocolate. I did an extensive search on Trip Advisor and landed at Xurreria Banys Nous near Plaza Catalunya. The churros were warm, thick, and filled with Nutella. They were to die for. Deciding to blend in with the locals, we took a much needed siesta back at the hotel.
We woke up just in time for our tickets to La Sagrada Familia, a large Roman Catholic Church and Gaudí's most famous masterpiece. The church is part of a UNESCO World Heritage Site and was consecrated by Pope Benedict XVI as a minor basilica. I've been to more churches than I could count, but this one was something special. I thought it was more impressive than the Vatican. The ceilings were tall and the stained glass windows were split into different colors and reflected in every which direction. In between taking pictures, I Googled to see if I could get on a waitlist to get married there. We spent longer than most in the church, admiring every minute detail we encountered. Afterwards, we stopped in the museum to see Gaudí's original sketches and construction models. I had already fallen in love with Barcelona, but this really made me want to return again.