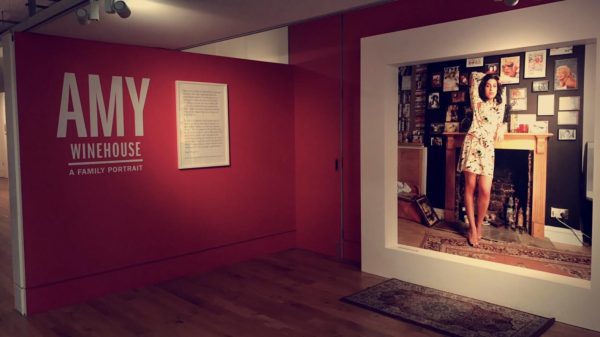 When I hear the name Amy Winehouse, my mind jumps to bold winged eyeliner, brooding music and drug use. Following her death by alcohol poisoning at age 27, Amy's image has become intricately tied to substance abuse and the violence that often stems from it, so much so that the other aspects of her identity have been obscured. The Jewish Museum in London's Camden Town seeks to memorialize Amy more holistically as a sister, a friend, a singer and a Jewish woman in their exhibition "Amy Winehouse: A Family Portrait."
Co-curated with Winehouse's brother Alex, the exhibition which was first displayed in 2013, only two years after her death, is a selection of Amy's personal belongings. The walls are lined with clothes, film photographs, her collection of fridge magnets (with sayings like "I never met a man I couldn't blame!"), books and records, ranging from Ella Fitzgerald to the Mickey Mouse Club. The intimate setting lends the exhibition an intensely personal feel. "We wanted to get away from the Amy you read about in the tabloids," said curator Jo Rosenthal. Gesturing to a child's school uniform with the celebrity's name stitched on the tie, she remarked, "Not so long ago, Amy Winehouse was just the name of another schoolgirl."
Being so close to Winehouse's possessions certainly brings her larger-than-life persona back down to earth. Standing next to the black-and-white checkered dress she wore in her "Tears Dry On Their Own" music video, I realized that she was probably about as tall as I am, barely grazing five-foot-three. Rosenthal mentioned that the museum had to get a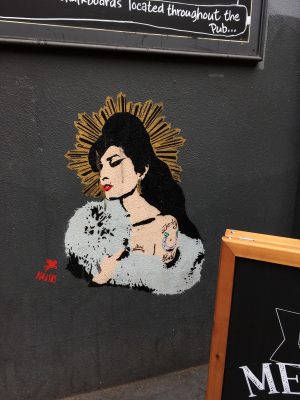 custom mannequin made for the dress because Winehouse's frame was so small. What the exhibition doesn't mention is that Winehouse was so thin because she struggled with addiction and eating disorders for most of her adult life. A screen mounted on the wall shows a video of her performing as a teenager, revealing that she was once a much heavier and healthier person—a version of herself that the public never witnessed.
In its effort to transform Winehouse's legacy, this exhibition overstresses who she was as a person as opposed to a performer, to the extent that her career is virtually absent from the space. The framed statement from Alex Winehouse outside the exhibition reads, "This is not a shrine or a memorial to someone who has died… This is a snapshot of a girl who was, to her deepest core, simply a little Jewish kid from North London with a big talent." But the adjacent wall, covered by pink post-its with adoring messages from fans, tells the story of the intensely powerful impact Winehouse had on those who adored her. "Your music saved my life," one reads. Another says, "To Amy: you are one of the most powerful women of our generation. You are sorely missed."
Walking back to the Camden Town tube station, I spotted a piece of street art depicting Winehouse with her classic bouffant hairdo and bold winged liner, head framed in an ornate halo. To her family, Amy Winehouse was a down-to-earth Jewish girl with "big talent" and big dreams, and to some of her fans, she and her music were lifesaving, revered, almost holy. Both of those things are true at once. It is impossible to simplify her legacy down to only one piece of her multifaceted identity. The "real" Amy Winehouse is everything she was in life and everything that her life has meant to others: a Jewish girl, a musician and a troubled, vulnerable, powerful woman.
The exhibition runs until Sept. 24, 2017.
The Jewish Museum London
Raymond Burton House, 129-131 Albert St, London NW1 7NB
http://www.jewishmuseum.org.uk/amy
Tube Stop: Camden Town