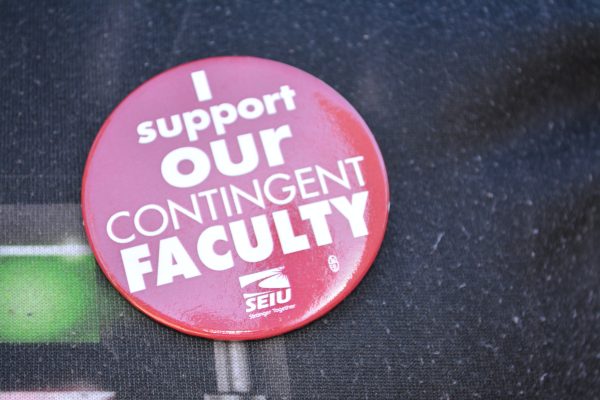 For many contingent faculty at Fordham University, working conditions are shaky at best. They are constantly questioning whether they will be asked to return to teach again in the fall, or if their classes will be full enough to avoid cancellation (and the pay cut that comes along with cancellation). They often having to teach at other schools or work other jobs to make ends meet and contingent faculty are not afforded the job security they deserve. This is the case for hundreds of professors at Fordham – over half of our faculty are not tenure track, as per business insider. Approximately 900 adjunct and contingent faculty in total will be impacted by this unionization effort.
Last week, Fordham's contingent faculty officially filed for a union election with SEIU Local 200 (Service Employees International Union). For over a year now, the contingent faculty have been working with the union to win their right to unionize. Their efforts to organize, of course, do not happen in a vacuum. They are significant to the academic and political environment here at Fordham as well as the larger workers' struggle for adequate working and living conditions. As Fordham students experience barriers to free speech in their activism, as Fordham's administration violated the university's statutes during tenured faculty's wage negotiations last year and as a national anti-union right to work bill has been proposed in the House of Representatives under the Trump administration, one cannot help but connect all these different struggles. It has always been those with uncertain employment who are cut off from collectives of other workers and are unable to express dissent. A union would transform the lives of Fordham's contingent professors and ideally alleviate widespread poverty among adjuncts, as 22 percent live below the poverty line. Unionization could give these professors much-needed job security and help them organize for other labor rights.
As Fordham students, we have a stake in our contingent faculty's labor rights. A professor who cannot afford to maintain their own health or spends their time outside class at another job is not going to be able to be dedicated as a professor. This is especially true when they are without access to proper benefits, money for their bills and time for leisure and research. Poor conditions for teachers make for poor learning conditions for students. But beyond that, it is our duty as "men and women for others" to take up the call by contingent professors to support their efforts to organize for their own rights. We recognize the positive impact unionization would have on students, but emphasize the moral and ethical necessity of supporting faculty rights as fundamental human rights. Because of that, we hope that Fordham's administration will remain neutral as faculty move forward in the union election process.
We cannot stand by and watch as the people who help educate us, experience poverty. As members of Fordham Students United (FSU), a student group that actively supports unionization efforts at Fordham, we would like to call upon other students to get involved and support their professors. Reach out to your professors and offer them your support. Inform other students of their duty to support professors' labor rights, both through informal conversations and by bringing it up during class. Get involved with FSU to help support our faculty. Our professors dedicate themselves to our education and to our growth as individuals, and it is our responsibility to stand up for them and support their right to a union.