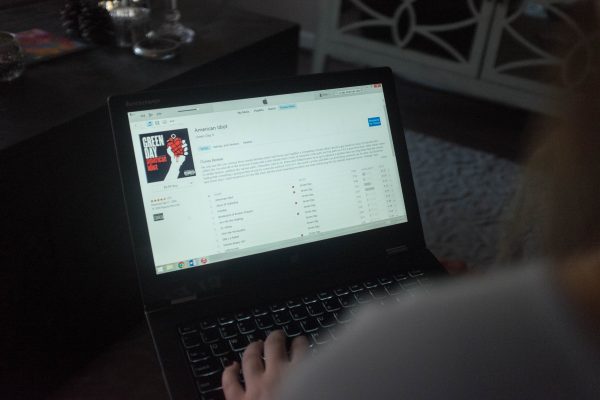 ERIN O'FLYNN/THE OBSERVER
My all-time favorite album is, far and away, "American Idiot" by Green Day. Written after the attacks on Sept. 11, 2001, it is a self-proclaimed "rock opera" that, among other things, bashes the Iraq War and metaphorically beats the Bush Administration to a bloody pulp. I have paid for the "American Idiot" CD, the vinyl record and album-related merchandise. I have chanted politically driven lyrics, like "Zieg Heil to the president Gasman," at Green Day concerts. Now, without a doubt, the Bush administration was a dangerous one that cost tens of thousands of Americans their lives in wars. So, was it right of Green Day to use the horrible events that occurred during the Bush Administration to make a profit?
Absolutely. In fact, not only is it moral, it is necessary. Politically charged art is a form of protest, and protest is one of the best means that citizens have for enacting change (or at least beginning that process). The presidency of Donald Trump is bound to incite protests and motivate artists to create powerful pieces rejecting Trump's ideology. In Trump's America, the artistic community —  music in particular  — has good reason to resist. And I like the idea of musicians manifesting their resistance in the form of catchy tunes that also pack a punch.
Even before Trump was elected, musicians were rejecting the hateful agenda of soon-to-be President Trump in songs. Rapper Eminem released a seven-minute freestyle aptly entitled "Campaign Speech" last summer. On the epic track, he declares: "You should be afraid of this dang candidate … a f**king loose cannon who's blunt with his hand on the button and doesn't have to answer to no one," before sarcastically remarking, "Great idea!"
The aforementioned hard rockers in Green Day released their twelfth studio album, "Revolution Radio," last October. The album is a political powerhouse, attacking Trump many times in several songs. Specifically, "Troubled Times" asked of listeners, "What good is love and peace on Earth when it's exclusive? … What part of history [do] we learn when it's repeated?" Singer Billie Joe Armstrong then proclaims repeatedly that "we live in troubled times." He has never been one to keep his opinions to himself — and his fans love it. At the American Music Awards, shortly after Trump's election victory, Armstrong got the crowd riled up when Green Day was performing by starting a chant: "No Trump! No KKK! No fascist USA!" The chant made its way to anti-Trump protests nationwide — I've seen it myself; It's a beautiful thing.
Perhaps the most sophisticated musical response to Trump's hatred comes from the thrash metal giant Megadeth. "Dystopia," the rock veterans, 15th album about modern American politics and the impending Trump administration. One lyric in particular that stuck with me is: "This planet's become one big spinning disaster. If you don't like where we're going, then you won't like what's coming next. What will we look like in a post-American world?" Other titles on the album – which speak volumes in and of themselves – include "The Threat is Real," "Lying in State," and, of course, "Dystopia." With this album having been released before the election, I can only say that Megadeth warned us.
Since Trump's election, musicians have taken to the stage, especially those with a national audience, to get their messages across. In just the past few weeks, artists made a splash in mainstream media by making political statements during their performances at the Super Bowl and the Grammy Awards. At the Super Bowl, the women who portrayed the Schuyler sisters in the original Hamilton cast sang "America the Beautiful," during which they added two important words to a lyric: "And crown thy good with brotherhood, and sisterhood." (I would kill for a t-shirt with the words "And Sisterhood" on it.) Additionally, Lady Gaga performed her 2011 hit "Born This Way" at the halftime show. The pop jam includes the lyric, "[Whether] you're black, white, beige, chola descent, you're Lebanese, you're orient … rejoice and love yourself today, 'cause baby, you were born this way." Her inclusion of the song is a clear jab at Trump's Muslim ban and hateful rhetoric in general. Meanwhile, at the Grammy's, hip-hop legends "A Tribe Called Quest (ATCQ)" and rappers Busta Rhymes, Consequence and Anderson Paak perked up the ears of the nation when they performed together and directly called out the president. Between songs, Busta confidently said to Americans everywhere: "I'm not feeling the political climate right now. I just wanna thank President Agent Orange for perpetuating all of the evil that you've been perpetuating throughout the United States … [and] for your unsuccessful attempt at the Muslim ban." Then, a group of people, including a woman wearing a hijab, knocked down a wall that had been set up on stage as Busta rapped, "When we come together, we the people." The apparent metaphor was followed by a song and the repeated chanting of "Resist!" by the performers.
Every lyric, every album and every performance in these examples motivated me to do exactly what ATCQ told me to do: resist. I spoke about them and their messages on social media and encouraged my friends to attend protests. I also bought all the music, and even some merchandise and concert tickets, that the artists were selling. Some people might find it immoral to benefit from bashing the President of the United States; others might find it immoral because these "troubled times" should not be manipulated for profit. I disagree.
I think that musical political resistance adds to a revolution that is so vitally important given the current political climate (with which Busta Rhymes is admittedly dissatisfied). I support these artists with my money, and I encourage everyone on their side to do the same. I also encourage musicians like myself to create the music that the revolution needs. Where America is the movie, Trump is the evil villain; the protesters are the protagonists, and the soundtrack is the music of the resistance.