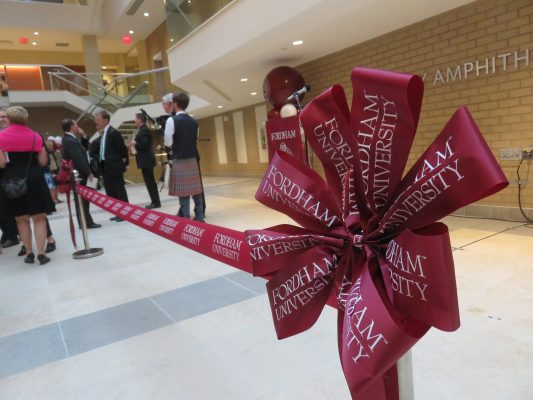 After months of waiting for the renovations to be finished, the newly reopened 140 West 62nd st. building was rededicated on Sept. 28.
The building—formerly the University's School of Law—housed a blessing and ribbon-cutting ceremony in the Platt Court venue. Members of the administration and board of trustees were present, as were students in the audience.
The event began with remarks from President of United Student Government Leighton Magoon, Fordham College at Lincoln Center (FCLC) '17. He introduced Vice President for Mission Integration and Planning Rev. Michael C. McCarthy, S.J., Director of Campus Ministry for Lincoln Center Rev. John J. Shea, S.J., Assistant Dean of the Gabelli School of Business Rev. Vincent DeCola, S.J. and the Dean of Fordham College at Lincoln Center Rev. Robert R. Grimes, S.J., who participated in the blessing of the building.
"There is a connection between wisdom, exposure to good teaching, dedication to learning and living out that learning," McCarthy said in his prayer for the building. "And when you think about it, that's pretty much what we mean when we use Fordham's motto—"sapientia et doctrina"—or as we say in this Dodransbicentennial year, "wisdom, learning, service and faith." So in rededicating this building that has been here for quite some time, we are also rededicating ourselves as a community to these principles."
Rev. Joseph M. McShane, S.J., president of Fordham University, then came forward to bless the building.
The ceremony took the turn for the unexpected, however, when it was time to cut the ribbon.
After members of the administration assembled behind the ribbon to prepare to cut it, McShane wielded the large pair of scissors that were on hand, opening them just behind the ribbon. Turning to Magoon, he said, "Since the students will be the ones using the building, you should be the one to cut it," and held the scissors out for the USG president to take them.
McShane's hands slipped, however, and he accidentally cut the ribbon, eliciting laughter and applause from those present. In order to rectify the mishap, they picked up the two ends of the ribbon and tied them back together loosely so that Magoon could cut the ribbon himself. The ribbon was then cut into pieces to be distributed amongst those who had taken part in the ceremony.
Following the ceremony, students gave tours of the building and a reception was held in the garden level lounge. A dinner was later held in the multipurpose room.  
The building, reopened at the beginning of this semester, features classrooms, a newly redesigned Quinn Library, an Argo Tea, large multipurpose rooms, new club and administrative offices, and a new amphitheater. Among the new offices are Counseling and Psychological Services, Health Services, Study Abroad, Campus Ministry and the Office of Student Involvement.