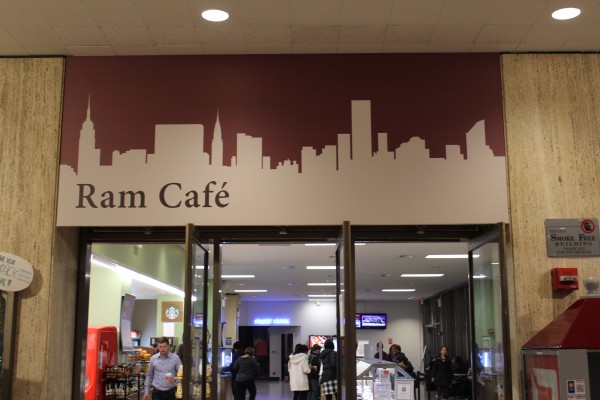 For the past 30 years, the university's 225 unionized Sodexo employees have fought for better wages, benefits, job security and pension plans. However, according to recent concerns voiced by their union, Teamsters Local 810, their contracts could be jeopardized depending on the result of the current dining services Request for Proposals (RFP).
What is the RFP?

The RFP has been an ongoing bidding process since Dec. 4, when the university issued it "to ensure continued and progressive improvements in dining services in the medium and long term." The list of bidders was later revealed to be Sodexo, Compass Group, Aramark Corporation and the CulinArt Group.
Similar to Sodexo, the other three dining service providers being considered are multinational corporations. Aramark Corporation and the Compass Group are also the only two dining service providers larger than Sodexo.
The last dining services RFP issued by the university was in 2013, after which the university renewed Sodexo's contract for 10 years. The issuing of the recent RFP terminates this 10-year-contract after only three years.
The Office of Student Affairs and the RFP
A main impetus for Teamsters Local 810's recent campaign for the Sodexo workers was a memo released by the Office of Student Affairs.
The memo contains the disclaimer that potential RFP bidders "should consult their own legal counsel" and that it "is not in any way to be considered legal advice or a legal opinion."
It continues, however, that "we do not believe that a new food service vendor at Fordham can be bound to the existing CBA [Collective Bargaining Agreement] in any way. Should a new vendor win the Fordham contract, they will be responsible for hiring the staff necessary to service it."
Teamsters Local 810's believes this memo suggests that Fordham will not actively pursue the protection of the wages, benefits and contracts of the Sodexo workers if Sodexo is replaced.
In an email statement, Senior Vice President of Student Affairs Jeffrey Gray said that "all of the potential vendors also understand the nature and mission of our community, the values and areas of emphasis that are important to us, and the expectation that they will engage in reasonable and good faith negotiations with the union on behalf of the represented employees."
[quote_left]This memo suggests that Fordham will not actively pursue the protection of the wages, benefits and contracts of the Sodexo workers if Sodexo is replaced.[/quote_left]
"We will not contract with a non-unionized provider, nor one that cannot meet our expectations in this area," Gray continued.  "All the potential vendors understand they must treat all current employees with respect, dignity and fairness, and that all current employees should be given fair and reasonable opportunities to retain their positions."
This potential jeopardization of the workers' contracts follows the first time that Sodexo and Teamsters Local 810 negotiated a five-year-contract, a change from their previous three-year-contracts.
"We are happy to have negotiated a new five-year CBA with teamsters Local 810 in September which would remain in effect when we enter a new contract with Fordham," John Azzopardi, resident district manager of On-site Service Solutions for Sodexo, said.  "This was the first time we have entered a five-year agreement, as all of our previous agreements were for three years."
What is Teamsters Local 810?
Teamsters Local 810, previously Teamsters Local 805, is the union that represents the Sodexo workers at Fordham University.
In response to the memo and the RFP process, Teamsters Local 810 has led a campaign to inform members of the Fordham Community on the workers' benefits and contracts.
To begin this campaign, Teamsters Local 810 Business Manager Sandy Pope circulated a fact sheet to students and faculty alike.
"Because the labor contract of the Local 810 members is with Sodexo, no other company is obligated to honor it," the sheet states. "Fordham University also has no legal responsibility."
The sheet also breaks down the various benefits that the unionized Sodexo workers have fought for:
-Seniority provisions which protect older workers and provide a fair way to decide on promotions and pay raises.
-Regular wage increases and promotional step increases. (Wages range from $10.50/hour to $18/hour for higher skilled, more senior workers. The majority make around $12/hour.)
-Comprehensive company-paid family medical, dental and prescription coverage.
-A defined benefit pension plan with a company contribution of now over $1/hour going to retirement.
-The total package of wages and company paid-benefits brings everyone over $15/hour
"If a new company wins the bid, they could decide to make the workers re-apply; for their jobs (and decide to hire only some), insist on re-negotiating all wage and benefit provisions, and insist on abandoning the workers pension fund," the letter continues. "The pension loss would cause at least two thirds of the workers to lose all their retirement savings."
[quote_right]"They can send a very charged signal to whoever is the new company if they do give it to a new company."[/quote_right]
The letter concludes by requesting that members of the Fordham community "ask the Fordham Administration and Student Committee to fulfill their moral obligation to the workers who are important members of the Fordham Community."
"The question is more whether or not they are going to insist on having all of our members reapply for their jobs and will they honor the existing contract," Pope said. "I think that Fordham has alerted the companies bidding that there is a union and that they expect them to deal with them. But there's a lot more to just recognizing the union.
Pope continued that while Fordham is not legally obligated to act, "They can send a very charged signal to whoever is the new company if they do give it to a new company."
"What we want is for them to respect people's seniority," Pope said. "We have people with 30 years or 20 under Sodexo, and the last thing we want is for some of those people to lose their seniority that took years for them to get. I think the highest rate of pay is somewhere around $18/hour. And that's after 30 years."
Pope also stated that Fordham is not defending the continuation of employees' contracts as strongly as it did in the last RFP process in 2013, after which Sodexo's contract was renewed.
"Sodexo retained the work and made promises to expand and do all different things with Fordham," Pope said.  "And so other bidders did come in, but the other bidders communicated to me that there was a very strong message to them that expectations were that there would be no disruption."
"And this time, it seems that Fordham has been careful to point out that they have no legal responsibility in the relationship between the vendor and the workers," Pope continued. "They just have communicated that they want whoever operates the food service to be fair with the workers and recognize the unionized workforce. So it's not as strong a message as it was the last time from what we've been told."
How the Faculty is Responding
Following Pope's circulation of the fact sheet, Fordham faculty began to collect signatures for a letter to Gray and the other members of the RFP committee.
The letter outlines that the faculty "encourage the committee to ensure that whoever wins the bid for our dining service will protect our colleagues by: employing all the current workers and maintaining their current wages and seniority; preserving all the terms of the labor contract including but not limited to the workers' retirement and medical benefits; [and] committing to recognizing and maintaining a fair working relationship with Teamsters Local 810."
The letter, distributed via email to Fordham faculty on Feb. 16, gathered approximately 100 signatures by Feb. 19, according to Professor of Theology Jeannine Hill-Fletcher, Ph.D., one of the co-authors of the letter. She also works in the Dorothy Day Center for Social Justice's (DDCSJ) Service Learning Program.
"I've spent the last 15 years being part of a community that values justice, the ethical dimension of our work and the dignity of a human person," Hill-Fletcher said. "And then in the office in the location right next door to the Dorothy Day Center, my colleagues who are a part of this community, 225 members of our community, are in a vulnerable position with respect to their jobs, their economic well-being and their security."
Hill-Fletcher continued that "the question that can be raised is how is this decision being made and is this the ethical vision of Fordham's mission being used as a model for the decisions as we go forward?"
What is a Just Employment Policy?
As a solution to this issue, Hill-Fletcher proposed that a just employment policy be implemented similar to Georgetown's.
"So basically, if the question of whether our employment policies are matching with our mission and Catholic social teachings [arises], it is written into the employment practices of the institution," Hill-Fletcher said. "And in that just employment policy, there are elements that would help make sure that the well-being of our contracted workers and our colleagues are front and center."
"We have a short-term situation where we need to do what we can to ensure that this is focused on the well-being of our employees," Hill-Fletcher continued. "But the long-term reality is that we really need to have a just employment policy in place."
What Else Can Fordham Do?
Associate Professor of Management Sharon Livesey, Ph.D., a co-author of the faculty letter, said that there are legal rights that Fordham can utilize to help ensure the fair treatment of the current employees under a new contractor.
"Fordham can set the expectation for how the current workers are treated under the new contractor," Livesey said. "If they want to be responsible, they can require that all current employees be hired for a trial period of 90 days, during which they will not be fired except for cause."
"As a Jesuit university, I feel that it's really up to Fordham to make a really important part of their decision process who is actually going to be doing the service and how do we make sure that whatever cost cutting they might be after is not going to come off our employees who have loyally served us," Livesey continued.
[quote_left]"I fear that cost cutting may take precedence over community, and I certainly hope that is not the case because it would contradict fundamental Jesuit principles." [/quote_left]
She added, "I fear that cost cutting may take precedence over community, and I certainly hope that is not the case because it would contradict fundamental Jesuit principles."
Livesey also emphasized that students not blame the workers for the quality of the food.
"If the students are unhappy with Sodexo, they shouldn't necessarily blame the frontline workers, because the frontline workers who are actually preparing and delivering the food do not have decision authority over many of the things that affect the end product that they get both in terms of the deliciousness and convenience," Livesey said. "Simply put: don't blame the messenger."
How is Fordham Students United Involved?
The main student group involved in the issue is Fordham Students United, lead by organizer Monica Cruz, Fordham College at Rose Hill (FCRH) '16.
"We thought it was really important, especially at a Jesuit university that claims to value social justice and that claims to care for the whole person and uphold all of these values," Cruz said. Among the FSU efforts planned are a teach-in at Flom Auditorium on Mar. 2 and a social media campaign.
The beginning of this social media campaign was two Facebook posts promoting the cause on Feb. 16, one of which garnered approximately 300 likes by Feb. 20.
Cruz said that FSU is aiming to do a "social media campaign where we can post pictures of Sodexo workers and put their statements and their stories talking about their lives and why they love their job.
"Mainly to show students at Fordham that they're real people, that they're not just people standing behind a counter, and that they're people with families and friends and interests," Cruz continued. "Also that they deserve to have a fair-paying job and benefits."
FSU also released a letter of support on Feb. 22 to collect signatures from students and alumni.
Regarding these efforts, Cruz said that "at the end of the day, whether we're super happy with the food or not, these are real people with families and lives and they deserve to be taken care of."
UPDATED: An earlier version of this article stated: "In other words, this memo suggests that Fordham will not actively pursue the protection of the wages, benefits and contracts of the Sodexo workers if Sodexo is replaced. The editor has subsequently changed it to read "Teamsters Local 810 believes this memo suggests that…" to more accurately reflect that the interpretation is one of the union and not of the reporter.