UPDATED: Rose Hill Student Publicly Criticizes Public Safety for Mishandling Assault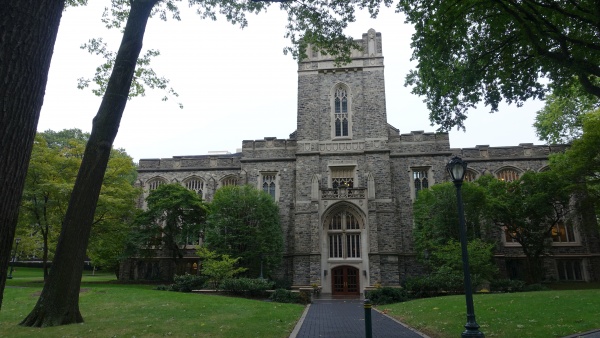 By ADRIANA GALLINA and SOPHIE KOZUB
November 16, 2015
UPDATED: November 16, 2015 1:51 p.m.
On November 15, Rose Hill student Marissa Marcinelli FCRH '17 published an article on the Slant News website, recounting the alleged sexual assault of her friend by a cab driver, while she and her friends were in the cab, charging that the incident was mishandled by Fordham Public Safety and Fordham University Emergency Medical Services (FUEMS). Marcinelli's article currently has 12,300 views and about 1,600 Facebook shares.
Asked for a comment on Marcinelli's charge, Bob Howe, senior director of communications and special advisor to the President released an official statement from the University regarding the incident: "University officials read Ms. Marcinelli's open letter this morning. The allegations are very grave: we are taking her account of the incident seriously, and are investigating the actions of the University personnel and students involved. We will issue a more comprehensive statement as soon as possible."
John Carroll, vice president of Public Safety, was reached for a comment, but referred The Observer to Howe.
This is the fifth charge Fordham has faced this semester in regards to sexual, racial or religious abuses suffered and or committed by a Fordham student. In one instance, a student charging sexual assault off campus withdrew her charge and apologized to the Fordham community for a false report. Two other bias incidents dealt with swastika graffiti found on campus. The first incident of the semester was the carving of the n-word on a black student's door.
When asked about writing the piece, Marcinelli stated, "I decided I wanted to write this article because of the nature in which our situation was handled. This is not the first time I, or my friends, have been put at a disservice by Fordham Public Safety and FUEMS."
She continued, "I felt that this was the final straw because whereas I am not ashamed of my mental health and willing to disclose information about it on my own terms I know many people aren't. I believe that the way Fordham responded to this situation not only perpetuates a victim blaming approach to dealing with sexual assault, but also perpetuates a stigma against mental illness."
The FUEMS personnel who attended to our case violated [Health Insurance Portability and Accountability Act] (HIPPA) laws in regards to patient confidentiality. This violation as well as the fact that our assailant wasn't prosecuted by Public Safety were the final straws in my discontent with Fordham policy, so I decided to speak out in a manner I felt was appropriate, something that many other students who have experienced similar situations may not have felt comfortable doing. I simply  wanted to shed light on some faults in Fordham's policies that I believe end up being more harmful to students rather than being of benefit to them."
As briefly defined by the Department of Health and Human Services, HIPPA privacy law "provides federal protections for individually identifiable health information held by covered entities and their business associates and gives patients an array of rights with respect to that information. At the same time, the Privacy Rule is balanced so that it permits the disclosure of health information needed for patient care and other important purposes. "
An Outline of Marcinelli's Allegations:
Marcinelli alleges that in the early morning of November 11, the students were arriving back to their off campus Bronx apartments in a cab, when the driver asked for a payment larger than the fare, claiming that they "still owed him." Marcinelli claims that he then proceeded to assault and attempt to rape one of her friends while they were all in the cab.
After convincing him to drive them to the Rose Hill campus, telling him that Fordham Public Safety would pay him, they were met by a "whirlwind of questions" from Public Safety, according to the article. "Upon arrival at security we were immediately thrust into a whirlwind of questions, all ofwhich were asked in a way that would suggest that my friends and I were the ones at faultfor being intoxicated and taking a cab," Marcinelli said in the article.
"My friend who was assaulted was in hysterics, as most anyone would be, and I myself was very jarred." Marcinelli also claims in the article that "after Fordham security paid [their] assailant again, thus doubling the fare of [their] ride, he simply left without any further prosecution despite [their] account of [her] friend's attempted rape, without eventaking down his license plate or cab number."
She also states that Fordham Public Safety called FUEMS, because "the officers dealing with [the] case believed that [Marcinelli's] friend may need to be taken to the hospital for 'intoxication.'" The author claims that she and her two friends were sober when this call was made and FUEMS arrived, because close to five hours had passed since they had consumed alcohol.
Once FUEMS arrived, Marcinelli says, "The manner in which questions were asked was in a manner that would suggest that my two friends and I were at fault for what had happened to us." During FUEMS's evaluation of Marcinelli and her two friends, they determined her friend was not intoxicated enough to take her to the hospital, and Marcinelli claimsFUEMS's proceeded to question her regarding her taking Prozac and Xanax.
According to the article, when Marcinelli at first refused to give a reason to FUEMS why she was taking the two medicines, on the basis of not being comfortable talking about it in front of several people, the FUEMS responder who had been questioning her said "no you have to tell me, otherwise we're going to take you to the hospital without your consent."
She then claims she had to sign a "Refusal of FUEMS" form, giving formal documentation that she had refused to be taken to the hospital by FUEMS.  When she asked to see the report they had written on her before signing the form, they said she"could not, as it was not complete, and if [she] did not blindly sign this form they would forcibly take [her] to the hospital."
Marcinelli stated that her and her friends were eventually taken to her friend's apartment, where they planned to spend the night.
Additional reporting by Ana Fota, News Co-Editor