Harry Potter's London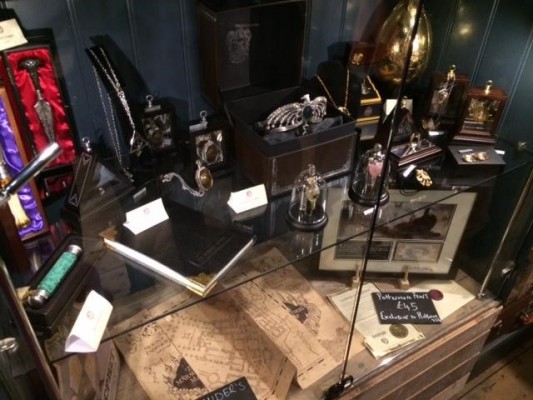 As someone who has been a fan of Harry Potter since I saw the first movie when I was seven years old, I was eagerly anticipating visiting all of the locations of the films and the books while I was in London. Though Harry Potter's story might have taken place during the 90s, the locations are still memorable well into present day.
Finding these locations only took quick a Google search, but I had to stick with the free options, since I was on a budget. Hogwarts itself is located, and was filmed in locations outside of London, such as Oxford and Gloucester. So, if you have the opportunity, you should make your way to those places. If you really want the full blown film experience, check out the Warner Brother's Studio Tour  about an hour outside of London in Leavesden.
The Millennium Bridge: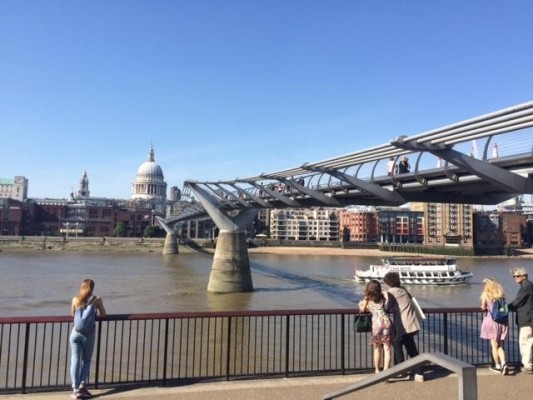 Famous for being destroyed by Voldemort and his 'Death Eaters' in the film adaptation "Harry Potter and the Half Blooded Prince," the Millennium Bridge was featured in this iconic opening scene. Luckily, the real bridge is still in tact, and you can walk across it today without fear of 'He Who Must Not Be Named.'
The bridge's futuristic architecture and proximity to other famous landmarks, like St. Paul's and The Globe Theatre, make it a must see in London, regardless of whether you are a fan or not. If you can, make time to walk across it on a sunny day and grab some candied nuts while you look for any 'Dark Marks' in the sky.
TUBE STOPS: Mansion House, Circle and District lines
St. Paul's, Central line
Leadenhall Market: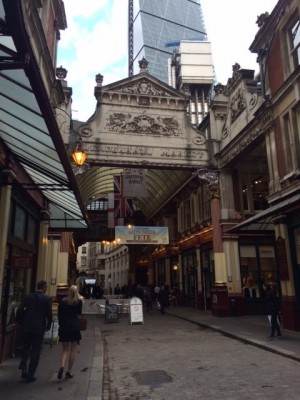 Leadenhall Market, which is only a short distance from the London Bridge, hosts the location of the infamous Diagon Alley featured throughout the films. Though no one sold any broomsticks or magic wands, the market has a wide variety of restaurants that are sure to please any group after a long day of touring. The Victorian architecture of the market is a sight to behold and quite magical in itself.
Make sure to enter the market through the Bull's Head Passage, as that is the entrance to the Leaky Cauldron from the films.
London EC3V 1LT
TUBE STOPS: Monument, Circle and District lines
Bank, Central, Northern, and Waterloo and City lines
King's Cross: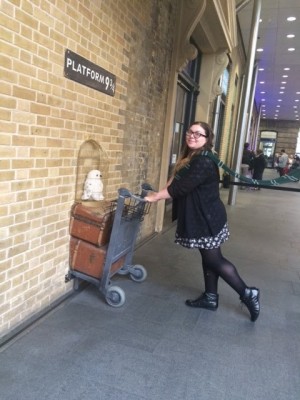 Though not exactly between platforms nine and ten, Platform 9 ¾ is a landmark that makes King's Cross a must see for Harry Potter fans. Since you can't get on the actual platform without a ticket, the station has kindly set up a trolley "mid run" that is partially in the wall. There, you can pose with the cart and pretend you're on your way to your first year at Hogwarts.
Right next to the set up is the Platform 9 ¾ Store, where fans can buy all sorts of Harry Potter related merchandise and buy the professional version of their trolley photo if they wish. The store has an extensive selection of merchandise, ranging from magnets to clothing. They even have prop replicas, such as house scarves, jewelry the characters wore in the movies and a whole section dedicated to replicas of the wands used in the films, sorted by each character. Any 'Potterhead' would have a hard time not spending all their money in this store.
Make sure to look to the right, when you step outside of King's Cross, at the exterior St. Pancras International building, where Ron flew his father's car past as he and Harry tried to get to Hogwarts during their second year.
London N1
TUBE STOP: King's Cross St. Pancras, Circle, Hammersmith & City, Metropolitan, Northern, Piccadilly, and Victoria lines