Published: January 29, 2009
When you go to college in the middle of New York City, it's easy to get lost in the shuffle. Now factor in the added pressure of trying to fit in at school after most people have already made friends. Transfer students are bold enough to brave this obstacle and undergo a second round of orientation rituals for the sake of being at the school that fits best for them. Does this risk pay off or are they ultimately isolated from the new community they have joined? The most recent National Survey of Student Engagement, a project that measures the level of student involvement in hundreds of universities in the United States, revealed that most transfer students feel disengaged with their college communities.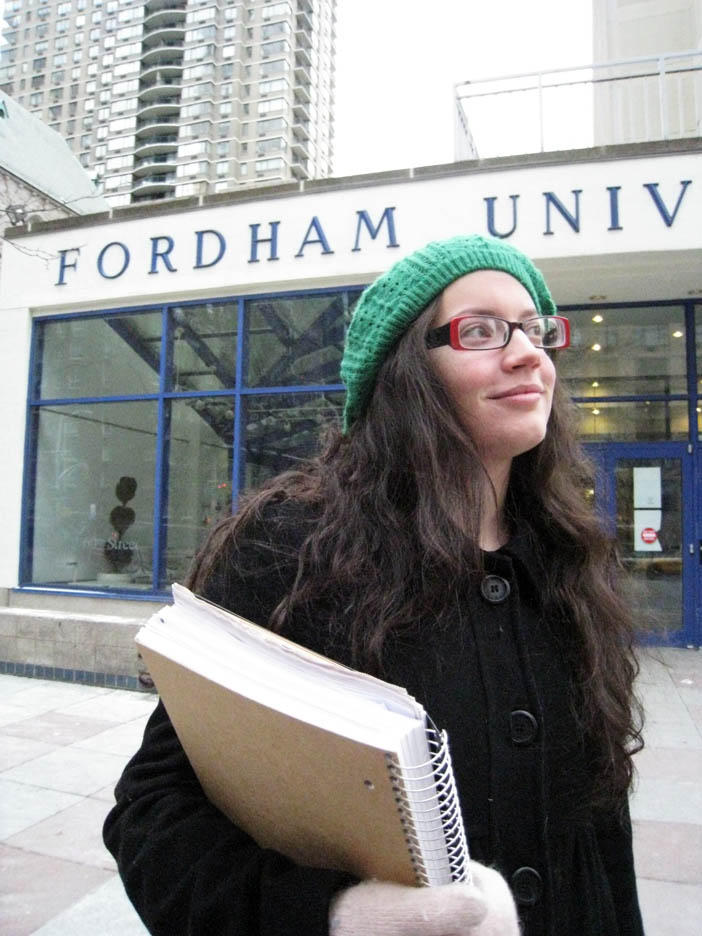 Initially, one might assume that transfer students feel like they are on the fringes of the new student body that they have entered. Everyone else has already established his or her groups of friends, and fellow transfer students only make up a fraction of the population. Upon entering this new and intimidating environment, it seems like there are few people to whom transfer students can relate.
"I could tell everyone thought I didn't belong. I didn't look like I was in the age bracket," said Sherri Eldin, FCLC '09, who transferred to Fordham College at Lincoln Center (FCLC) in 2007 from Manhattan College. "It was weird being so much older than everyone, especially in my core classes."
Contrary to the study's findings, many transfer students at FCLC feel that their transitions went smoothly.
"I do not feel like an outsider at all," said Cat Roberts, FCLC '09, who transferred from California State University, Northridge during her junior year. "My only regret is that I didn't come right out of high school because of how much fun I'm having."
"I really feel like I belong here," said Gabriela Jerez, FCLC '09, who transferred from St. John's University in 2005. "I feel like I belong more here than I did at my previous college."
The first question on everyone's mind when he or she enters a new environment is, "How do I get involved?" Instinctively, most people's first reaction is to connect with people with whom they have the most in common. Many transfer students have done just that by taking advantage of the 50-plus clubs available at FCLC.
"I'm president of the Psychology Association, and I try to attend student events when I can," said Christina Bartel, FCLC '11, who transferred from Juniata College during her sophomore year.
Jerez, currently an active member of the Student Organization of Latinos (SOL), was also an executive board member in the club.
"I made most of my first good friends through SOL," said Jerez, "Then, just being in that specific community [helped me] interact with other communities like Middle Eastern Students Association (MESA) and Molimo."
Roberts has also gotten involved and taken executive board positions as the secretary of  the Jewish Student Organization (JSO) and as a board member of the Lincoln Center Society (Ambassadors).
At the onset of their FCLC experiences, transfer students have their own orientation, which some feel was very helpful in their transition to Fordham.
On the other hand, some students feel that the administration could have done more to help them with the transition, especially when it came to finding housing.
"Transfer students are not offered housing (nor any help finding housing), so I've had to make do with what I was given. I believe that Fordham needs to create a department, or even just one position, for the purpose of helping students find off-campus housing," Roberts said. "When I moved to New York City from California, it was only my second time here, and I had less than a week to find myself an apartment and move in before my parents went back home. It was extremely stressful and I almost could not transfer here because of it."
"[The administration] didn't tell me, 'This is what you need to do; these are the classes you need to take,'" Jerez said. "I took four [history classes], and I didn't have to."
Jenifer Campbell, director of Residential Life at FCLC, commented on the difficulty transfer students experience trying to find a place to live upon enrolling at FCLC.
"Any student that transfers to Fordham University is told by admissions whether or not they're being provided with housing, same as we do for first-year students who aren't being provided housing," Campbell said.
Residential Life notifies the FCLC Office of Admissions as soon as they find out about vacancies, and Residential Life administrators don't keep housing availability a "secret," according to Campbell.
As far as helping students find alternatives once they've been put on the waiting list for McMahon Hall, Campbell said, "We do have, through the dean of students, some general information, but we really don't do the canvassing piece of going out and finding [off-campus housing options] because the New York market is so limited. Oftentimes, you have to be right there in terms of your availability to [handle] the deposits and things of that nature; so the brokering piece of it is a little [more] difficult in New York than it is in other locations."
"If we are able to offer transfer students housing, they're given that information and told, 'Yes, we do have spaces available.' Our limitations are based on students going on study abroad and/or transferring out of the university or graduating, based on vacancies becoming available," Campbell said.
To help with the difficulties of establishing themselves in a new community, many transfer students have found that Jason Greif, the transfer dean at FCLC, has been an invaluable resource.
"Dean Greif has been absolutely crucial to a smooth transition. He has been helpful and completely involved in every step of transferring," said Bartel, "He helped me get involved by bringing the Psychology Association to my attention."
Greif makes several provisions to help transfer students assimilate comfortably into the Fordham community.
"I basically tell them that they have to go out there and do things if they want to be a part of the community," Greif said. "I try to look out for them and see how I can connect them to different people within the university to get them situated here."
Greif also started a mentor program this year for incoming transfer students.
"I set up the incoming transfer students with current transfer students just so they'd have someone to talk to, get help navigating around the university, and someone to be friends with initially," Greif said.
Despite the difficulties of transferring, many transfer students have been able to find their way into the tight-knit Fordham community through various channels, including the Office of Student Leadership and Community Development, talking to Greif and connecting with the people in their classes. Many have found that reaching out and becoming involved was worth the effort, as they enjoy the benefits of being part of the community.
"It's a small community at Lincoln Center," Jerez said. "Everybody knows everybody, or at least we've seen each other. We're like family! It's great! I love it."