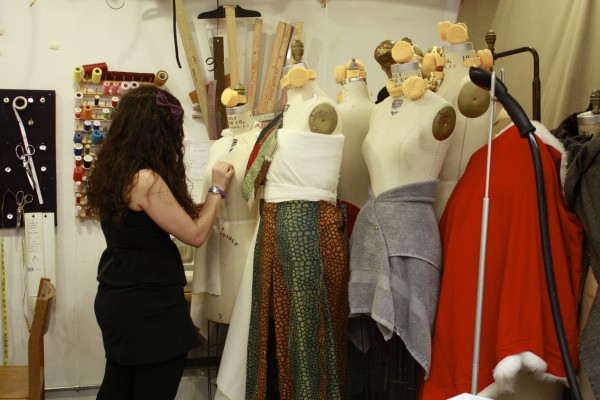 New York is one of the fashion capitals of the world: Designers, models and anyone wanting to make a career for themselves in fashion typically find themselves in New York City. As of Fall 2014, Fordham University created a minor in fashion studies, and it is quickly becoming popular among students.
This interdisciplinary minor is broken into three parts: fashion design, fashion marketing and fashion studies. Marissa Legnini, Fordham College Lincoln Center (FCLC) '16, said that she's learned a lot from her fashion classes so far. "To truly appreciate fashion, I think a little bit of knowledge in each category is necessary, and it also broadens student perspectives on fashion as a whole," Legnini, who is a communications and media studies major, said.
Another student, Eavan Schmitt, FCLC '16 , who is a visual arts major, also said that including the minor into her courses was an easy transition. "The minor is technically under the umbrella of the theater and fines arts department, so I didn't have to make too far of a leap. As a matter of fact, the project which I plan to propose with my junior review application is grounded in my fashion training." Schmitt said that the courses that she's taken this far teach the fundamentals of fashion along with "the importance of creative collaboration and critical thinking" showing how the application of this minor can be beneficial for many different reasons.
Like many minors, fashion studies requires six classes in order to be complete; three required introductory courses and then one class in each of the three possible fields. Classes range from anthropology to business marketing, showing just how broad and universal the minor can become. Some classes include "The History of Women's Magazines," "Consumer Behavior" and "Stage Makeup and Hair," making the minor universal for all majors and interests. Fordham Law School (LAW) also has one of the first fashion law institutes in the country, making the minor even possible at the graduate level.
"What sold me on this program above the ones offered at other schools were the three components," Legnini said. When speaking about the design class requirement, she said, "[Professor] Kai Brothers taught us how the fashion process starts with inspiration to the actual design and the finished product." Which differs some of the other required courses, like fashion anthropology; "Dr. (Aimee)Cox taught us how to recognize the cultural implications of fashion and how fashion potentially acts as a mechanism of class distinction, perceived status symbols and hegemonic influence in people's lives." By taking just a few classes so far, Legnini has already incorporated the minor into her major, so she can graduate in time and can tailor it to her liking.   
New York is home to many schools that caters to fashion specifically, like Fashion Institute of Technology, LIM College and Parson's School for Design. However, these schools do not offer the liberal arts education that students at Fordham receive. "What I appreciate about the Fordham program is that it provides us with the opportunity to study fashion in its many facets while also receiving a top quality education from an acclaimed school," Legnini stated as one of the few reasons why she decided to take up the minor. Schmitt also said that "given our location near the site of Fashion Week and our existing connections to creative fields, I was frankly surprised when I arrived at Fordham that a similar program didn't already exist." After being introduced only two semesters ago, the fashion studies minor is well on its way to becoming a new popular field of study here at Fordham.