Improved Food Service on Campus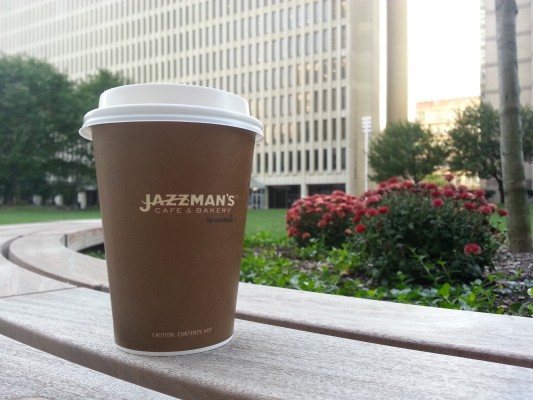 Despite the Princeton Review rating Fordham  the top five worst college food for 2013, halfway through the semester, Fordham College at Lincoln Center's (FCLC) students are beginning to voice their guarded approval of the new dining options on campus. The openings of McKeon Hall and the new Fordham University School of Law building have provided several new facilities to supply the campus with widely varied choices of food. 
"It's a lot more enjoyable," Michael Figueroa, FCLC '17, said of the new buffet-style dining hall, located on the first floor of the law school. "As a commuter I usually don't eat here unless I'm eating with my friends, and usually it's just a grab-and-go kind of thing, but since they opened up the new cafeteria it's actually a pretty cool experience." 
Prior to this year, the main location for campus dining was the Ram Café, offering "Grab-n-Go" items and hot meals. Now, new names include Sammies, Slice of Life and the Grille at 62nd on the second floor of the law school, and Jazzman's Cafe and Bakery in the Law School Library. There is also an all-you-can-eat undergraduate cafeteria, which is occupied by diners almost constantly during its open hours from early morning to 8:00 p.m. on weekdays.
This dining hall features a salad bar, up to four cooked meal options for lunch and dinner, and other amenities new to campus diners. According to FCLC's Dining Services Campus Marketing Manager Michael Martin, the recent expansions of the dining program were only one step in an ongoing process."The Ram Café is due for some renovations," he said, though he could not provide a timeline, but did say that they hope to provide the options of soft serve and fruit once offered by Red Mango in the now-empty retail space. "We're always looking to expand some areas." Martin also described the new dining options simply: "Each location at each building has its own aesthetic, its own target audience," he said. "We try to have something for everyone."
The students seem to be picking that up. According to Karyssa Gonzalez, FCLC '18, the circumstances of her day tend to dictate where she eats. "Sometimes I eat at the Ram Café between classes, but primarily I eat at the all-you-can-eat dining hall," she said. 
Gonzalez is also cautiously supportive of the food itself. "Like anything, it can definitely improve, just as far as options, but I think their overall quality is good, considering that it's brand new," she said. 
Francesca Aton, FCLC '17, explained, "Usually I would rather cook my own meals, but when I'm over in the [law] library, I can go right to Jazzman's and get something. It's very convenient." The growing presence of the cafe's coffee cups around campus shows that she is not alone. 
Gonzalez had a tempered view of the experience from the students' end, however, hoping for better planning by Dining Services: "I like the exposure … but I think they should have had regular options as well, especially because [the same meal] transferred from lunch to dinner," she noted as an example of a possible improvement.
On Oct. 8, Sodexo brought the "Global Chef" event to the Lincoln Center undergraduate dining hall, featuring a British cuisine theme designed by British Sodexo Chef Brian Wilson. A menu of classically British dishes was served for the day.
Martin assures students that there will be more to come, hinting that in the near future Lincoln Center will host "'Elite Events,' which are an extension of a restaurant-type feeling, where you would come in and we would actually serve you. It's a brand new concept here," he added. 
During the last week of October, another event will take place: Fall Fun Fest, in which autumn-themed foods will feature in the undergraduate dining hall. This will include the weeklong availability of apple cider, pumpkin pies and Halloween treats to those who buy a meal there or have a meal plan.
Dining Services recently sent out a survey to the community, asking for diners' opinions on operations, which will be available until Oct. 29. Martin was adamant that this data is very important to the program, and that usually the office gets a high number of responses. Regarding the recent addition of 16 hours to the facilities he said, "We got feedback and knew we had to make a change immediately. In about a week or two we made that change. There [are] people here and they want to eat." Those changes extended the hours of Sammies, Slice of Life and the Grille at 62nd.
For those like Gonzalez, this attention to feedback may come as good news. "I do think that they're getting better but I think if they could stay open a little later it would be good," she said, pointing out the groups of students who range the premises later in the evening looking for a bite. "I think there [were] six delivery guys in the lobby last night." 
Students around campus seemed in agreement that there are still improvements to be made, but Figueroa summed up the general atmosphere in his observation of the new undergraduate dining hall: "I think a testament to people's positive attitude is that when you go to the new café you see upperclassmen and freshmen, even faculty all together."