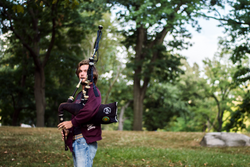 "I started Irish dancing at the age of five," Tyler Tagliaferro, Fordham College at Lincoln Center '17, said.
"And I thoroughly disliked it."
But, as the youngest of four children growing up in a half Italian, half Irish family, who were all celebrating their heritage with various activities from the homeland, his mother required him to pursue something.
So, they struck a deal: If Tagliaferro could get first place in a dance competition, she would allow him to quit. Not even four months later, at his first regional competition, Tagliaferro struck gold.
"I danced. I got first place and then I walked off and told my mother that I quit Irish dancing," Tagliaferro said. After a couple of months, his interest in bagpiping came to the surface.
He counts his official bagpipe anniversary as his 10th birthday, after an on-again-off-again relationship with the bagpipe transformed into a lifelong affair. His 20th birthday last week marks ten years.
Now, he performs in competitions, both with a band and solo, has made the shift from student to teacher of his own pupils and arranges his own music.
The competition season usually spans the summer, but Tagliaferro practices in the off-season as well.
"I play in Central Park for practice and Central Park is really the only place I can go," Tagliaferro said, "because the soundproof practice rooms here are not soundproof for bagpipes, as many people have told me."
"I played once on the Plaza," he said, "and many people screamed out their windows. So Central Park is a nice, public location where I can play bagpipes and not too many people are upset about it."
"I don't play for money … officially," Tagliaferro said. But he leaves his bag open, just in case. He was shocked the first time he played with his case open and got $150, though he averages about $20 for a trip to Central Park.
While he has played funerals, masses and 9/11 memorials throughout his career, the goal going forward is to play for the President in the White House. For now, though, he is happy having performed for the President of the University, the Rev. Joseph M. McShane, S.J.
Tagliaferro performed on Robert Moses Plaza during the Mass of the Holy Spirit on Sept. 11, 2014 after Rev. Robert R. Grimes, S.J. asked him if he wanted to play.
"I loved it. I've always wanted to play at Mass of the Holy Spirit," Tagliaferro said.
"Father McShane loved it, definitely."