Fordham Remembers Professor Emerita Eva Stadler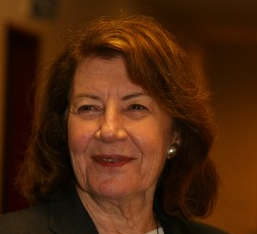 On Monday, Aug. 11, Fordham lost longtime community member, Eva Maria Stadler, associate professor emerita of English and comparative literature.
"She was a very important part of our school for most of it's history," Dean of Fordham College at Lincoln Center Robert R. Grimes, S.J., Ph.D. said.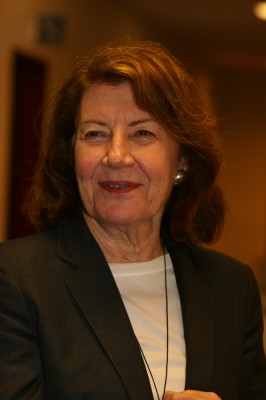 Stadler joined Fordham College at Lincoln Center in 1968, the year the college was founded, then known as Fordham's Liberal Arts College. 
"Professor Stadler was a woman of tremendous energy and tremendous intelligence and she brought her tremendous gifts to the school," Grimes. said.
"She shaped the interdisciplinary Humanities Division and helped it develop into a strong and collegial unit," Professor of English Anne Hoffman told Fordham Public Affairs.

Despite her title being limited to the English department, Stadler's influence transcends programs. 
As one of the founders of the media studies program, "she understood the diversity of media studies and how it embraced so many disciplines and approaches," Brian Rose, professor of communications and media studies, said. 
"But her primary interest was in film, which she taught with enormous passion and intellectual energy," Rose stated. 
In 1983, she collaborated with the Film Society of Lincoln Center and the annual New York Film Festival to establish the first course a course on contemporary filmmakers.
Thanks to Stadler, "students attended most of the Festival's screenings and had the chance to hear from visiting filmmakers," Rose explained.

"[Stadler] was an inspiration to several generations of Fordham students and faculty," Rose said.
Donica O'Bradovich, FCLC '86, a former student of Stadler remembers her as her inspiration. "Once in a lifetime, you encounter a professor who inspires you from the very first day of class. Eva Stadler was that professor. She was my mentor who made me appreciate film as an art form and helped guide my career choice. Bresson, Bergman and Fellini became constants in my life as I took every course she offered and absorbed everything she said. She was brilliant, insightful and had a wicked sense of humor. She was also extremely generous with her time when I needed it (which was often). The course she taught in conjunction with the New York Film Festival gave me some of happiest memories of my life. She even pulled a few strings so that I could take it another year. I was profoundly saddened to hear about her passing and wish I could have told her how much she has meant to me all these years," O'Bradovich said via email.
"Professor Stadler encouraged her students to stray away from basic summarization and dig deep into textual analysis. She provided a very deep and strong foundation to all Fordham English students who were lucky enough to have her," Abiezer Mendez, FCLC' 12, remembered. 
"She was really a part of this place," Grimes said.
Professor Lawrence Kramer, distinguished professor of English, remembered her as, "a real community-builder and a personal model of generosity and intellectual adventurousness," according to Fordham Public Affairs.
She is survived by her husband, Richard Brooks.
A memorial service will be held on the Lincoln Center campus this fall. According to Grimes it can be expected for September or November.