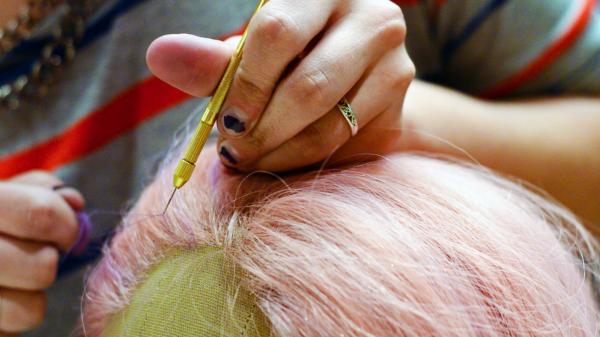 "The Labyrinth of Desire," Fordham Theatre's final mainstage production of semester, begins performances in Pope Auditorium at Fordham College at Lincoln Center (FCLC) on Thursday, April 3.
The play, written by Caridad Svich, was adapted and translated from Lope de Vega's "La prueba de los ingenios." The comedy follows characters as they pursue love and sexual desires in a small village.
"If the audience thought it was cool to sit on the stage for 'We Are Proud to Present a Presentation About the Herero of Namibia,' there's a completely non-traditional use of Pope that we're doing," Assistant Costume Designer Anna Abowd, FCLC '15, said, "as well as really cool design concepts for the costumes that are hopefully going to make people's jaws drop."
For Hair and Makeup Designer Sara Donovan, FCLC '14, spring break meant working on the wigs for the mainstage on a plane to Barcelona, Spain. "I didn't get in trouble in security like I thought I might for carrying bundles and bundles of random hair and a wig head," Donovan said.
"I did get yelled at for bringing cuticle scissors onto the plane, and I did get angry about that. The TSA owes me scissors," she said.
Audiences aren't often privy to see what goes on behind the curtain, before performances begin, before the show opens. Take a look at what goes into putting on the mainstage through the work of Abowd and Donovan.
IF YOU GO
The Labyrinth of Desire
When: Remaining dates – April 9-11
Where: Pope Auditorium (113 West 60th Street)
Price: General Admission: $15
Fordham Alumni and Faculty: $10
Students and Senior Citizens: $5
RSVP:(212) 636-6340 or via email at [email protected]