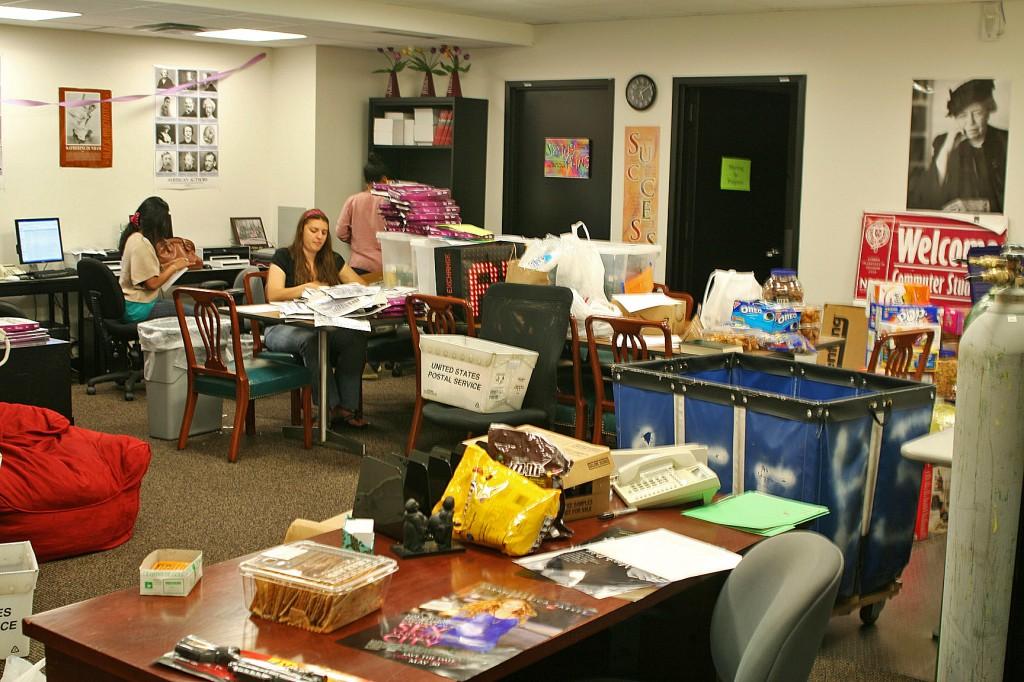 Published: August 28, 2008
Freshmen are entering Fordham University in record numbers this year, according to the Admissions Office. The undergraduate colleges received 23,000 applications this year, according to Patricia Peek, associate director of admissions. This year's incoming freshman class at Fordham College at Lincoln Center (FCLC) is made up of 440 students, which is the largest in the history of FCLC. This influx of new students, up from 404 last year, has already made an impact on FCLC.
According to James Robilotta, the Resident Director for Freshmen in McMahon Hall, the flood of freshmen has forced the Office of Residential Life to create more triple rooms than ever. So much so that all freshmen placed in a triple have received a four-page mailing entitled "Living With Others," a guide to managing life with multiple roommates. It includes preparation tips, such as packing minimally, as well as guidelines for living in close proximity to others, communicating effectively and utilizing study habits that minimize distraction. "It will require the people living in triples to be more patient, understanding and to communicate more," Robilotta said.
Alex Rabinovich, FCLC '09, a Resident Assistant in McMahon Hall, has a record of over 90 residents on his two floors. Rabinovich said, "This is the largest group of residents I've seen in my four years at Fordham. It should prove to be an interesting year." Freshmen are traditionally housed on floors two through five in McMahon, with the occasional spillover onto the sixth floor. Freshmen now occupy eight of the 13 available apartments on the floor.
Robilotta says that the growing student body has not left the Fordham administration scrambling. "It's more a rush than an 'oh God!' We're not being blindsided by [the upward trend]." In fact, applications to the university have steadily increased for the past 17 years, according to Peek. Robilotta speculates Fordham's distinction in Newsweek as the "Hottest Catholic School" in last year's "25 Hottest Colleges" feature accounted for the spike in this particular year: "It put us on the map for a lot of people," he said.
Junior Meghan Carpentier, Orientation Coordinator for this year's incoming class, also attributed the school's growth to Newsweek's article, and said that no real changes were made to the orientation program. "From an orientation standpoint, I know that [the new students] are all getting the same time, energy and love from the orientation staff. Space is always an issue here at [FCLC], but we make it work and do our best to make the students happy."
The growing FCLC student population was one of the deciding factors in the creation of the Master Plan, an expansion project for the campus that will stretch FCLC's current capacity of 3,500 to over 10,000, a number the university expects to see by 2030, according to the Master Plan Proposal's Web site. These plans include more academic space and at least one more dormitory, allowing for a greater population of resident students and more flexibility in scheduling. "We're still such a young campus at FCLC, so as we mature and grow and learn to market ourselves better," said Robilotta, "the sky is the limit."
According to Jenifer Campbell, the director of residential life at FCLC, the new dormitory, tentatively slated for availability by the 2011-2012 school year, will be a more traditional-style dormitory with an emphasis on lounge space to foster a sense of community.
A relatively new initiative in the residence hall, the Integrated Learning Community (ILC), will also shape the freshmen experience in McMahon. For the first time ever, all of the freshmen floors will be ILCs, which will enable freshmen to bond with their floor-mates through seminar class programming. This will allow even such a large group of students as the class of 2012 to get to know each other personally and to forge bonds at an early stage of the college experience. Robilotta called the ILC an "awesome program that bridges the gap between high school and college very well," adding that "it should bring the student affairs department and the faculty together because we're working together toward the same goal."
"It's a really exciting time for Fordham, and it's wonderful that more people will be a part of it this year," said Justine Rella, FCLC '10.
Though many colleges are experiencing growth at this time, Peek said, "Fordham's growth has been ahead of the national demographic curve and the enrollment activity at the majority of peer institutions."