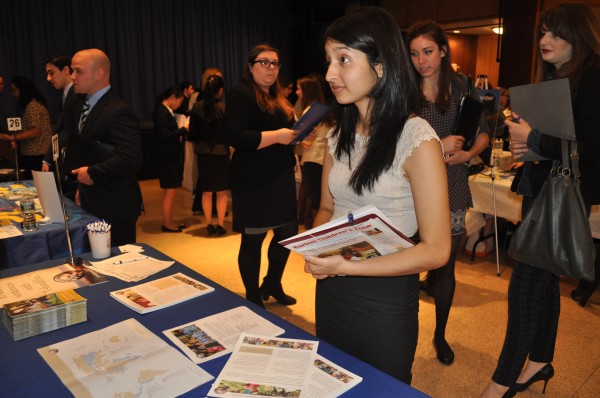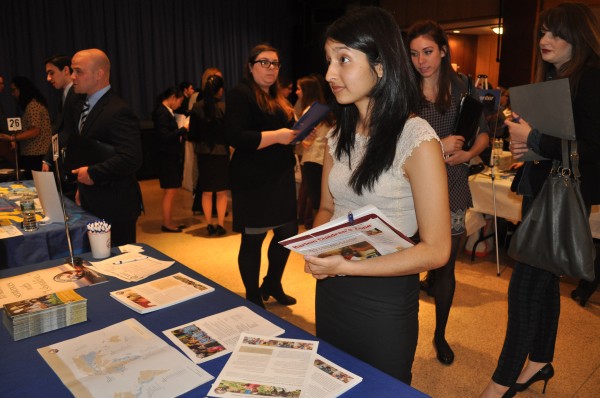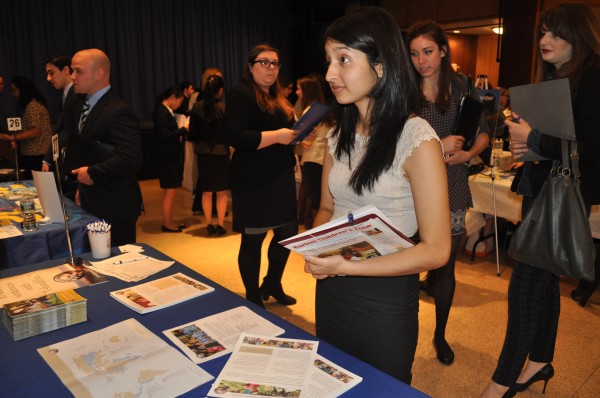 On Wednesday Jan. 29, Career Services at Fordham College at Lincoln Center (FCLC) held its second annual Arts, Media and Service Career and Internship Fair. Many students went to Pope Auditorium to meet recruiters from as many as 39 different companies and organizations.
Reaction from Career Services was positive. "The event went great! We had a full room of employers," Abigail Ferreira, a career counselor, said. "I think it was even stronger than last year. Students seemed really well prepared," she said.
A recruiter from one of the most popular companies among students, Sarah Hall Productions, a boutique entertainment and lifestyle public relations agency, spoke about internships. "We rely super heavily on our interns to handle day-to-day activities. They'll be drafting press releases, working on social media, creating itineraries … Every day is super different for them. We treat it like a mentorship," she said.
According to some recruiters, there are many jobs available for recent graduates. Job opportunities at Teach for America, a nonprofit that hires recent college graduates to teach in low-income communities, are plentiful, according to its recruiter. "There's always a lot of need for teachers … and the need right now from school districts is bigger than it has been in the past. At this point we can basically accept anybody that's qualified to teach. So it's not like we need to fill a quota, or we cap at a certain level," he said.
According to the recruiter for Habitat for Humanity: New York City: "The nonprofit job world always exists. It's great for people who are passionate about their cause… We have a full-time staff of about 35."
The representative for Rightster, an online distribution and marketing network, spoke highly of the job market that her company pulls from. "The tech industry is booming, and New York City is like the tech-mecca still … We deal in video, which is supposed to be the next big thing in analytics SEO [search engine optimization] for websites," she said.
Nautica's and Kipling's recruiter was positive, as well. "Our brands are growing very quickly, so we have a lot of openings right now," she said.
However, some recruiters disagreed. The opposite is true in the cable news industry. The representative for ABC Local said, "The job market's tough … At this point we're not hiring because it is a tight market. The thing about television is people get in these jobs, and they stay for a long time."
Students were glad to have the opportunity to meet so many employers in one room. While waiting to speak with the Armani Exchange recruiter, Jeffrey Cipriano, FCLC '13, said, "Speaking as a graduate, I'm having a really good experience connecting directly with employers … I don't always have time to coordinate interviews, so this has been a nice way for me to get my foot in the door."
Also waiting in the Armani Exchange line, Maria DeCasper, FCLC '17, said, "I like [the career fair]. It's very interesting. You get to connect with employers. It's really cool to find out what kind of different internships there are."
This career fair was the first of its kind for Alex Porterfield, FCLC '16, a theater performance major. "It's really cool that the school sets this up for us so that we can introduce ourselves to all these companies and programs as young adults who are trying to get out there," she said.
Eagerly waiting in the CBS Local line, Leighton Schneider, FCLC '16, said, "It's going really well. There's a wide variety of companies and organizations. It's really good to get out and start looking for internships and jobs."
Mike Hernandez, FCLC '15, is looking for a job in production. "I've been working in production since high school, so I just need something to keep going," he said before speaking to the CBS Local recruiter.