Fordham Students' Responses to Chain Email
By now, the frantic email thread begun by Lucas Bifera, Fordham College at Rose Hill '13, has quieted down. While the thread mainly contained requests for removal, it also displayed some of the more humorous aspects of the Fordham community.
If you didn't get a chance (or refuse) to read Fordham's reactions on the chain, The Observer picked out the very best for you. Enjoy!
The Shot Heard 'Round the World

With this simple message, Bifera started a campus-wide chain email, drawing reactions from hundreds of Fordham students.
The "She Doesn't Even Go Here"

Ring a bell? This girl probably just wants to bake a cake made out of rainbows and smiles. She just has a lot of feelings.
The Liam Neeson

We just hope "CK" doesn't have a "very particular set of skills."
The Less Intense Liam Neeson

This student's very particular set of skills involves strongly-worded emails to high-ranking Fordham authorities.
The Cha-Cha Slide

Taking us all back to elementary school bowling alley parties, this paid the ultimate homage to DJ Casper.
The Shameless School-Sponsored Promoter

This student took the time to plug the Latin Gala.
The Shameless Friend Promoter

Meanwhile, this user made sure to give a shout out to his "boy." #tryingtodoless
The Shameless/Agressive Club Promoter

WHY? IS THERE A REASON? WILL I STOP BEING A LOSER IF I GO?
The Shameless Self-Promoter

A girl has gotta do what a girl's gotta do to get Instagram famous, even if that is spam the entire university to get some followers.
The "You Don't Say"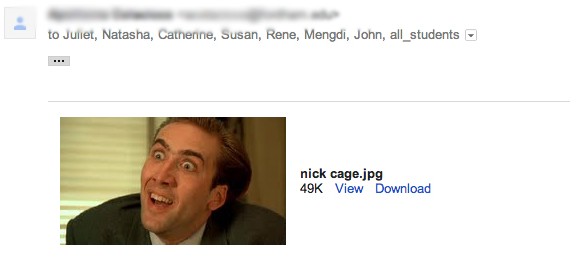 No email thread would be complete without a hefty collection of memes. The first up is "You Don't Say."
The "Imma Let Grumpy Cat Do the Talking"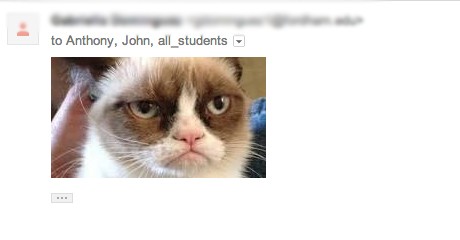 Some people on the thread were so fed up that only the immense miserableness of Grumpy Cat could capture their emotions.
The Tamland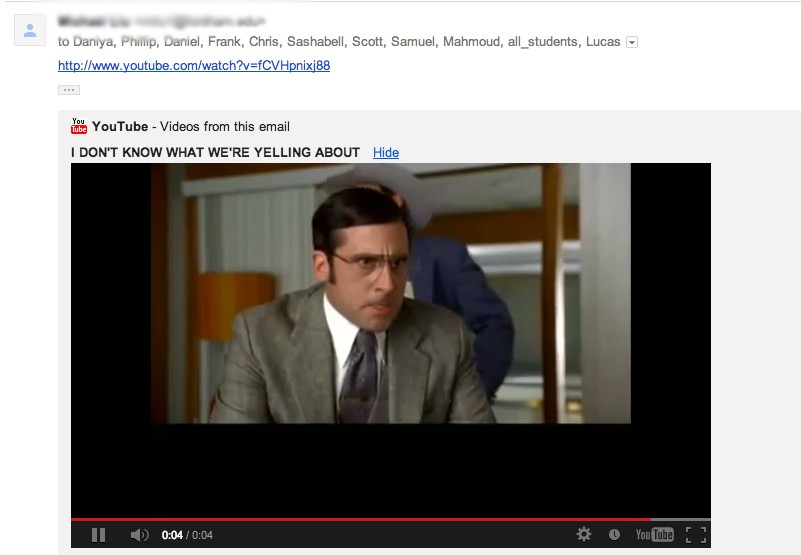 In reaction to some of the more hostile messages on the thread, this user posted this gem from "Anchorman."
The 30 Rock

The Sloth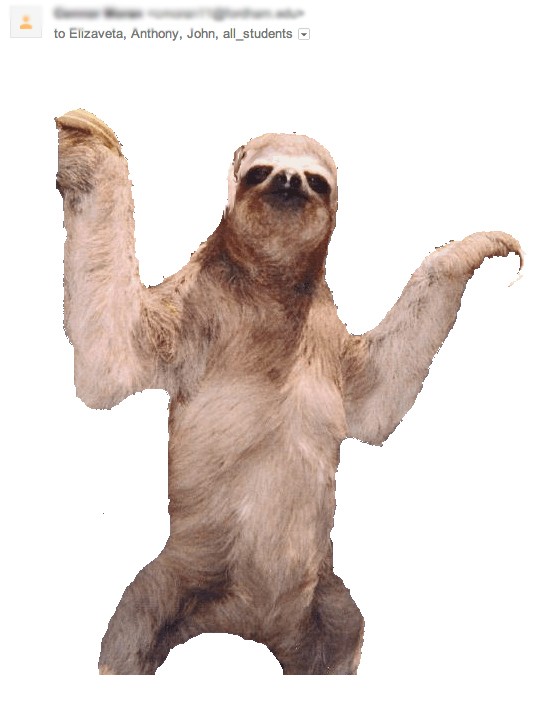 Kind of speaks for itself.
The Informant

Do not tell him! He's an informant! He's working for the Fordham administration!
The Sage One

After piles of emails requesting to be taken off of the chain, one brave soul tried to reason with the confused students of Fordham. Thank you, sir.