Gaelic Football, Father an Inspiration for Fordham Kicker Murray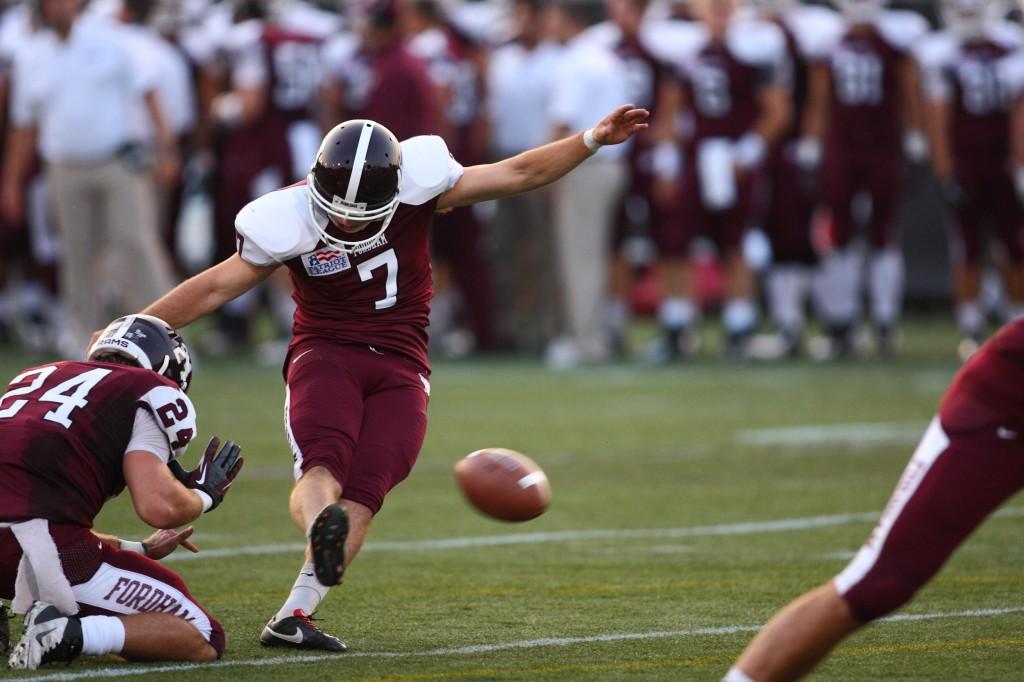 He is one of the most successful kickers in Fordham football history. But Patrick Murray, Fordham College at Rose Hill (FCRH '13), remains a humble guy who credits the support from his teammates and family, as well as the influences of Gaelic culture, for his success.
Murray, the National Placekicker Player of the Week for the fourth time this season, said he actually fell into the role of being a kicker. "I grew up a Gaelic football player and a soccer player," Murray said. "And when I got to high school, the opportunity was presented to me to try out for the football team. I obviously tried out kicking and found out I could do it pretty well, and it kind of just stuck from there."
The Rams kicker had a consistent approach before every game. "Every kick in practice, I put myself in a game situation so that when the game is on, I felt this way before; it's nothing new to me," Murray said. This has been a winning formula, since for the season Murray has already kicked four field goals of 50 yards or longer.
But don't expect him to be worrying about the statistics. Although Murray is three field goals away from the school's all time record, 18 field goals made by Matt Fordyce in 2002, he doesn't let that distract him. "The records, honestly, they don't matter to me. I'm not one of those guys who's gonna look back twenty years from now and say 'Oh, I had the field goal record.' I'm one of those guys who's gonna look back and say 'Oh, we won eight games and went to the playoffs and turned the Fordham football program around.'"
However, Murray is already in the record books, having kicked the longest field goal in Fordham history, a 55-yarder in a loss against the undefeated University of Cincinnati Bearcats on Oct. 14. The 55-yard field goal broke the old record of 52 yards, also made by Murray. "It was great to do it against Cincinnati, but to be honest with you, I really could not have done it without first of all, my snapper Joe Sullivan, FCRH '14, my holder Brian Wetzel, FCRH '15, and the rest of the guys on the line," Murray recalled.
When asked about his future plans about joining the NFL, Murray was not ready to think about it just yet. "I'm going to think about that when the season is over. We still have four more games left, and we still have four more wins to get. It would be entirely unfair for me to think about that stuff when I have to focus on the season right now and win this for the seniors, for my teammates, and the coaches." Murray identified his favorite NFL kickers as Adam Vinatieri and Lawrence Tynes, who he once met during a kicking camp at Rutgers University.
Other than his teammates and coaches, Murray says that his father has helped him enormously during his football career at Fordham.  Murray's father came from Ireland around twenty years ago and he believes his father would have been a natural at the game. "If he had tried out for a team when he first came over, he would've made a pro team, no problem. He's over 50 years old and he's still hitting 45 yard field goals. He's absolutely tremendous. I wouldn't be in the position that I am in today without the help of my dad."
Murray and his family all play Gaelic football. He credits Gaelic football, his first love, entirely to his ability to punt the ball on the move because that is what Gaelic football entails.