Get a Taste of Local Culture at Mikey's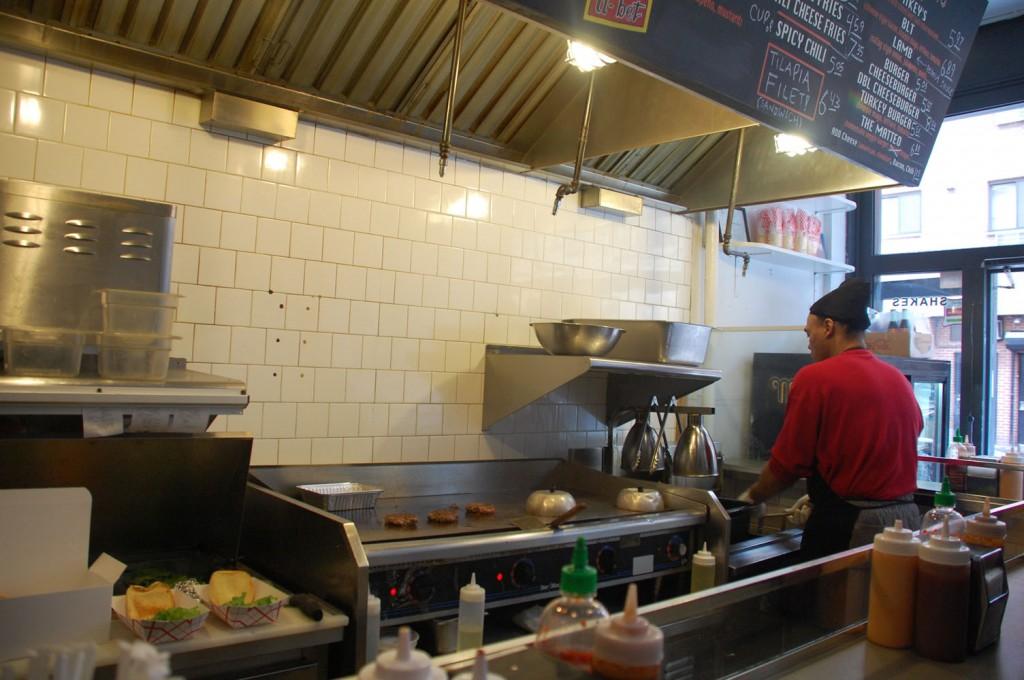 In a city filled with 24-hour delis and diners, finding the right and satisfying New York City burger can seem impossible. Many people say that Shake Shack and the Burger Joint are perfect examples of a traditional New York City burger, but although they are both good in their own right, I feel that these two spots have lost their unique local appeal. There are many other hidden places out there that offer the same delicious NYC style burger but still retain their uniquely Manhattan style. One of these places is Mikey's Burger.
Located in the middle of the narrow streets of the Lower East Side, Mikey's is a down-to-earth local burger place that is very different from the more established burger places in NYC. Small, hidden and alluring, Mikey's resembles the old-fashioned mom and pop burger joints that used to populate NYC. The main sight at Mikey's is its long bar table. It stretches across the restaurant and offers customers a direct view into Mikey's open kitchen. You can even see the freshly cooked burgers being made from start to finish right in front of you.
You could easily have a quick chat with your chef while he cooks up your delicious meal. Filling the small outside street with the glorious smell of char-grilled patties, Mikey's attracts all sorts of people from around the neighborhood. From the secluded bookworm reading in the back to the group or close friends looking for a quick meal, Mikey's seems to be a place everyone can enjoy.
On top of creating a nice localized atmosphere, Mikey's also has a good selection of dishes, ranging from simple fries to larger offerings such as Mikey's burger. But despite having an array of mouth-watering dishes, only two of them really stood out for me: the BLT burger and chili cheese fries.
A grilled beef patty on a slightly toasted bun topped with Kewpie mayo, lettuce, tomato and Chinese bacon, the BLT burger is one of the popular choices at Mikey's. The unique quality I noticed about the BLT burger was the Chinese bacon. Half the size of normal bacon but double the oiliness, the Chinese bacon added a sweet flavor into the BLT burger. Mixed with fresh Kewpie mayo, the BLT burger had a good balance of overall flavors. It didn't fall into the trap of being too salty, which is normally the case with burgers around the city. Although the BLT burger may seem a bit greasy at first, it is a delicious choice for those not counting calories. Paired with a side of slightly salted fries, the BLT burger is a filling meal for anyone.
Classified as an appetizer on the menu, the chili cheese fries at Mikey's are big enough to be considered a proper meal. The fries are served in a large foil box covered with melted mozzarella cheese and jalapeno peppers. Filled with a mixture of cheesy and spicy flavors, the chili cheese fries are the right meal for a person with a huge appetite or great for a person looking for that extra burst of zest on their taste buds. I would recommend sharing this dish with a friend.
Thanks to its great location in the Lower East Side, Mikey's is the ideal place to go to after a long night out. At the same time, Mikey's can also be a good place to have a quiet lunch alone.  With so many options in a city, it may seem impossible to find the right burger joint. But if you look closely you can find neighborhood burger hangout spots like Mikey's.  In my opinion, there is nothing more satisfying than finding a local spot to fill your hunger needs.
IF YOU GO
Mikey's Burger
Rating: 4/5
$$ out of $$$$$$
Where: 134 Ludlow Street, New York, NY 10002
Darryl's Recommendation: BLT Burger

View 134 Ludlow St in a larger map